Since past long years, Vitiligo has been seen emerged as a devastating disease with not only distorts externally but it harms mentally and psychologically.
Vitiligo is an autoimmune disease in which body immunity system gets in auto destruction mode resulting into harming its own cells and tissues. A condition of lower immunity as well as the condition of hyperactive immunity can cause autoimmune syndrome.
Mainly food habits and lifestyle changes are the behind reasons of this stage.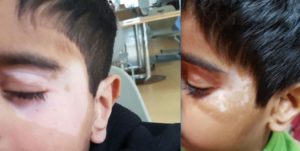 Coping up with vitiligo is possible but it demands tremendous attention to food habits and lifestyle activities along with proper treatment.
Majorly a strict diet restriction can be a good step to start with. Avoiding vitamin c, fermented food items, alcohol, junk food, curd can be helpful. Along with these there are other minute items which should be avoided. The details vitiligo food restriction guide must be given by the Vitiligo specialist.
Lifestyle also needs to be a little regulated as swimming in artificial pools is restricted. Over exposure of day time sun could be harmful in vitiligo. Detailed guide about vitiligo lifestyle restrictions should be guided by the specialist only.
Following these can be much helpful in coping up with vitiligo.
Vitiligo treatment should be taken by a specialist only as vitiligo is a special disorder and needs proper attention. General Doctors or physicians may not be able to tackle it properly.
Ayurvedic treatment for vitiligo looks most promising as these could not have any side effects and Authentic Ayurvedic herbal vitiligo treatment can not only take cares of spreading but it helps in coverage of white spots only.
Vitiligo specialty clinics can not be find easily as they are very less in number but treatment of white spots in one of the specialist clinic could be much beneficial.
Treatment medicines are made from herbs which acts with their photosensitive action and starts pigmentation in few weeks over the spot areas. Along with them the herbal immunity balancers stabilises the body immunity to control the spreading. Taking treatment with patience and following the food restrictions properly can result into healing of vitiligo spots in some months.
Choosing a correct Ayurvedic vitiligo specialist could be the key to success in vitiligo.