Vitiligo is a disorder which is showing up since decades but now days it's on a high. Only specialised treatment from Ayurveda works well in treatment for vitiligo. Ayurhealthline, the Global Vitiligo Specialty clinic which has been serving since last 10 years in the line of Vitiligo has researched and developed a new revolutionary herb based treatment for management and healing of Vitiligo and Leucoderma. The new formulation has been based on root cause removal therapy.
Cause of Vitiligo
Vitiligo is an autoimmune disorder which disturbs the appearance due to colour fading over skin.
Exact cause of Vitiligo remains vague in modern medical science but as per Ayurvedic texts Vitiligo is a disease which had its presence since decades and cause of Vitiligo is inefficient or disturbed immune system of the body. Ayurveda stresses on food habits, lifestyle and hygiene as to the point reason behind immunity disorder and Vitiligo. Odd food combinations like taking milk and non-vegetarian food items together or taking cooked vegetable preparations like brinjal and milk together, there are several examples of "Virud Ahar Sevan" mentioned in Ayurvedic text books. Such intake of food gives rise to toxins inside and that formed toxin in fact disturbs the metabolic system causing a state of autoimmunity in which body defence system gets paralysed and starts destruction of its own native cells causing colour loss over skin. Colour less areas of skin converts into white spots which are termed Vitiligo.
Latest Vitiligo Treatment
Vitiligo treatment in Ayurveda has served since past and has great reputation in healing and coverage of Vitiligo and Leucoderma. Now the latest vitiligo treatment researched and developed by Ayurhealthline has been proving as a breakthrough as the healing rate now gets faster by 50% and the spread control also gets fast controlled. Previously the Herbal Anti Vitiligo kit has also healed many vitiligo sufferers by completely healing their vitiligo spots and improving their immunity. Now the newly researched latest Vitiligo medicine as Anti Vitiligo kit has more potential for faster healing and coverage of white spots. The latest vitiligo medicine formulation has been researched and developed by Dr.Ravish kamal, Vitiligo Specialist which is a bit faster than the previous version and has the potential to heal the vitiligo lesions at a faster speed.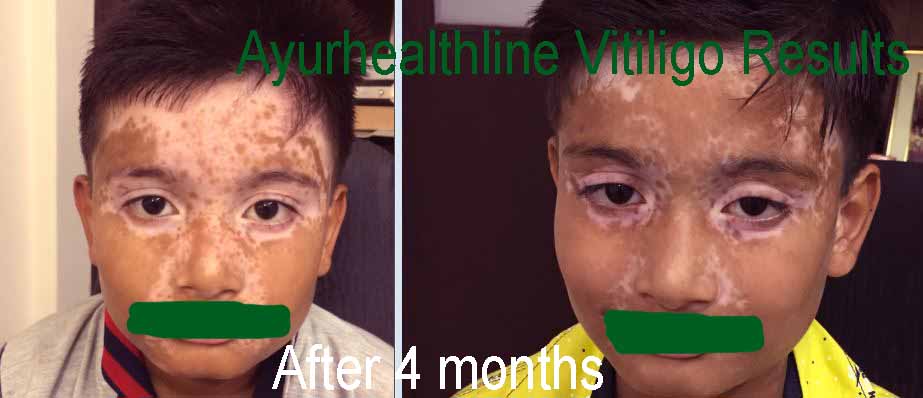 The modified herbal Anti Vitiligo kit has more potential of controlling the spread of Vitiligo. The latest Vitiligo treatment medicine is specially designed for switch over cases as most of the cases at Ayurhealthline reported coming after steroid treatments and in found at faster spreading condition. In that condition of panic a patient requires mental stability and correct medicines which can stop their steroid induced spreading as well as it could start pigmentation at a faster rate for complete healing of white spots without any side or adverse effects.
Its and endeavor of Ayurhealthline to spread awareness about what's happening latest in the area of Vitiligo Treatment and it also guides patients about correct choice of treatments without side or adverse effects.
Contact can be done by filling online Vitiligo Consultation.